Our Team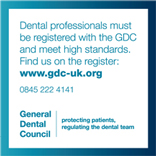 All our dentists adhere to the rules governing the profession under strict guidance from the General Dental Council (GDC) "Standards for Dental Professionals".
Dentist
Amritpal Singh Ahluwalia
BDS (Lond) 2007
GDC No. 115615
Upon qualifying from Kings College, London, Dr Ahluwalia completed his Vocational Training through Charing Cross Postgraduate Deanery. He practices all aspects of General Dentistry and has a particular interest in Preventative Dentistry and Oral Surgery.
Dr Ahluwalia is a member of the BDA, and is a valued member of the team.
Languages spoken: English, and Punjabi
Francisco Amorim
LMD (Oporto Portugal) 2007
GDC No. 164015
Dr Amorim obtained his LMD from Portugal in 2007, whereupon he undertook the position of Associate Dentist in Clinica Parque Da Cidade (Oporto). Amongst his interest in General and aesthetic Dentistry, Dr Amorim is keen to further his studies in Orthodontics.
Languages spoken: English, Spanish, and Portuguese
Megha Gupta
BDS Maharashtra Uni of Health Sci 2007
Statutory Exam 2009
GDC No. 174023
Dr Gupta enjoys all aspects of general dentistry.
Languages spoken: Hindi, Gujarati, Punjabi, Marathi, and Urdu.
Robin William Hanna
BDS (Glasgow) 2003
GDC No. 82068
Dr Hanna practices Private Dentistry, and although he enjoys all aspects of General Dentistry, he has a keen interest in implants, crown and bridge work, and cosmetic dentistry.
Mariana Pessoa
LMD (Portugal ) 2005.
GDC No. 209532
Mariana worked in Portugal as a general dentist with a special interest in Orthodontics, before joining the Practice in 2012. She enjoys all aspects of general dentistry but has a special interest in Orthodontics and Aesthetic dentistry.
Puvneet Ahuja
BDS Lond 2011 MJDF RCS (Eng)
GDC No. 212268
Puvneet qualified from The Royal London Dental Hospital in 2011 and received an undergraduate prize for Outstanding Clinical Excellence. She completed her vocation training within the Oxford Deanery, followed by a post at the Queen Alexandra Hospital, Portsmouth in the Maxillo Facial Department. Here she further developed her knowledge and skills of oral surgery and emergency dental care.
Puvneet has a friendly, caring and ethical manner towards her patients. She has a keen interest in endodontic and preventative dentistry.
Shabnam Bakhtar DDS Tabriz University of Medical Science 1999
Statutory Exam 2008
GDC No. 155945
Shabnam qualified from Tabriz University of Medical Science in 1999 and enjoys all aspects of dentistry having a special interest in Aesthetics and Restorative dentistry. She has been a member of Royal College of Physicians and Surgeons of Glasgow since 2010.
Kanika Kohil
BDS Himachal Pradesh 2008 Stat exam 2014
GDC No. 251486
Kanika qualified from Himachal Pradesh and enjoys all aspect of dentistry and has a special interest in cosmetic dentistry.
Kanika also loves treating children. In her spare time Kanika enjoys travelling and exploring new places.
Samira Ashrad
BDS Sheffield 2009
GDC No. 177499
Dr Samira Ashrad graduated from Charles Clifford Dental Hospital in Sheffield in 2009.
Samira went on to complete her vocational training post in East Yorkshire, where she gained a wealth of insight in treating patients under the NHS.
Samira has always had a keen academic interest and sat the MJDF examinations in London in 2012. She has been awarded the MJDF title; by the Royal College of Surgeons in London. This has further enhanced her knowledge and skills.
Samira enjoys all aspects of NHS and private dentistry.
Sonia Santos Morais
Lic Odont Madrid 2003
GDC No. 82620
Dr Sonia Santos Morais qualified from Universidad Complutense, Madrid, Spain in 2002 and spent 3 months training in Sheffield prior. She has been working as a dentist in the UK since 2003.
Sonia provides general dental treatment for both adults and children to the highest possible standard. She has an interest in cosmetic dentistry and provides Invisalign orthodontic treatment.
As a Spaniard, she is a native Spanish speaker as well as a fluent English speaker.
Luis Manuel Pita
LMD Instituto Universitario De Ciencias De Saude 2014
GDC No. 263819
Dr Luís Pita graduated from CESPU University, Portugal, where he obtained his LMD, in 2014. Luís' best skill is the ability to create a strong empathic bond with patients. Luís enjoys all aspects of General Dentistry and he is always looking for more ways of self-improvement since he has an eye for perfection.
Special interest in Oral Surgery and Aesthetic Dentistry.
Languages spoken: English, Portuguese, Brazilian, Spanish.
Rashmeet Jandu
BDS London (KCL) 2017
GDC No. 271953
Dr Jandu qualified from Kings College London in 2017. She then completed Dental Foundation Training, honing her dental skills and won the Wessex Deanery VT Award.
Rashmeet enjoys all parts of general dentistry and takes pride in building a great rapport with patients and providing them with the best possible treatment.
She is looking forward to further developing her skills, especially in aesthetic and restorative dentistry.
Other than dentistry, Rashmeet enjoys spending time with friends and family, baking and travelling.
She is fluent in English and Punjabi and has a good understanding of Hindi and Urdu.
Gurinder Basi
Statutory exam 2008
GDC No. 167363
Coming soon...
Oral Surgeons
Ihab Mohamed-Hashem
BDS Alexandria 1988, FDS RCS Eng 1997, Statutory Exam 2004
Speciality: Oral Surgery
GDC No. 83098
Dr Hasham graduated from Alexandria University (Egypt) in 1998, obtained FDSRCS (Eng) in August 1997, ATLS IN April 2000, CCST Oral Surgery committee in March 2001 (education and training).
Professional memberships include: Members and Fellow of the Royal College of Surgeons of England, Members of the British Association of Oral Surgeons, Member of the British Association of Dental Implantologists, Member of the Egyptian Dental Syndicate.
Dr Hasham has a wealth of experience in Minor Oral Surgery, spanning 23 years, with patient care being paramount.
Dr Manas Mishra
BDS Calcutta 1988, FDS RCS Eng 2000,Statutory Exam 2003
Speciality: Oral Surgery
GDC No. 82794
Dr Mishra has practiced as an Oral Surgeon since 2000. His experience is wide in all aspects of Dentistry & Oral & Maxillofacial surgery. As well as practicing at Inspire Dental Reading he is also a consultant at Heatherwood & Wexham Park Hospital. He also is an active committee member within the local NHS area team.
Dr Mishra has had several articles published.
Hygienists
Emily Aspinal
Dip Dent Hygiene & Therapy RCS Eng 2012
GDC No. 160509
Emily is enthusiastic and passionate about working and helping people. She enjoys Paediatric dentistry and working with clients with special needs.
In her spare time Emily enjoys travelling, voluntary work and referees youth football at the weekends.
Lindsey Rose
CEB Cert in Dental Hygiene 1990
GDC No. 3924
Lindsey has had 30 years' experience in dentistry and qualified as a hygienist at Charles Clifford Hospital Sheffield in 1990. She especially enjoys working with nervous patients. She has a genuine approachable personality.
Sammie Vaccaro-Senna
Dip Dent Hygiene & Therapy RCS Eng 2016
GDC No.198658
Sammie worked as a dental nurse for 5 years then retrained at Kings College London as a Dental Hygiene Therapist. Sammie enjoys taking part in hands-on courses to continue to develop skills.
In her spare time, Sammie enjoys reading and travelling.
Practice Manager
Janet Jones VDNC
Practice manager GDC registered Dental Nurse
Janet has worked at the practice for over 9 years, gaining experience in all aspects of the business. Janet aims to build and maintain a team with high standards and offer an excellent service to all our patients.
She became registered with the GDC in 2009 and enjoys all aspects of dentistry. Janet is particularly interested in surgical procedures and Implantology.